Return to Home
Return to Northern Uganda
REPORT OF THE TRAINING ON ARTEMISIA GROWING FOR A FREE MALARIA COMMUNITY
IN LODONGA PARISH, LODONGA SUB COUNTY, YUMBE DISTRICT
HELD FROM THURSDAY 7TH-SATURDAY 9TH AUGUST 2014
Location: Lodonga Parish is located within Arua Catholic Diocese but in Yumbe District in terms of the political affiliation. It lies in the extreme end of Uganda to the north bordering Sudan about 18 kilometers. It also lies on the western side of the Great River Nile hence the name West Nile.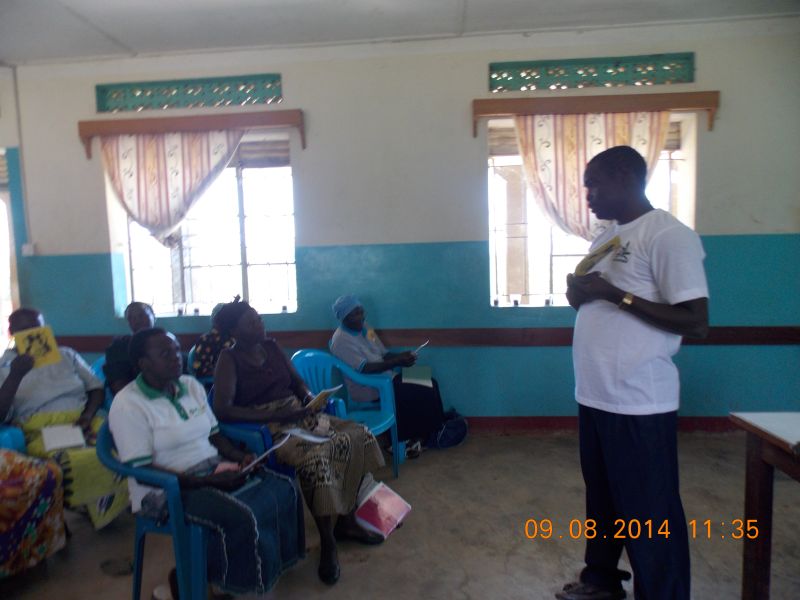 Background: Yumbe District is predominantly Moslem. The communities in general have negative attitude towards education and more so, girl-child education is generally neglected. When the Comboni Missionaries came to the place, about 80 years now, they requested some Moslems to give them a piece of land to introduce Catholic religion. They were given a piece of land at Lodonga, a place that they (Moslems ) thought was not productive. The Missionaries brought in some couples from the neighboring Countie like Terego, Maracha, Ayivu, Yumbe e.t.c . the families gradually reproduced and now Lodonga is surrounded by Christians who are not originally the people of Yumbe. Because of this, the non Christians of Lodonga have embarked on staying in associations for some support, guidance and to encourage each other. Access to health services is difficult. There are few health centers and only one Hospital managed by the government but with very poor health services. The essential drugs are always missing in the government aided health centers and hospitals. Malaria infections and deaths are high with the children and women as the most victims.
Target group: I have targeted the women of Lodonga parish who belong to the Catholic Women Association. Since they are already in an association, it is easy to work with them. They have a varied educational background. Some few attained the Secondary level of education, others stopped at the Primary level and many do not read and write. But despite these different education levels, they have had a successful projects like goat rearing, poultry, small scale savings among others.
The training: This non-residential training on Artemisia growing ran for three days i.e Thursday, Friday and Saturday.
The topics covered included:
Sowing Artemisia seeds both the theory and practical,
How to plant it in the garden,
How to take the cuttings,
How to harvest, dry and store.
Use of Artemisia leaf powder as prophylaxis against malaria; (working to achieve your dream). This was the main emphasis in the training and the main AIM of the training.
Record keeping and
The actual treatment of malaria with Artemisia leaf powder.
Activities before the training:
Translation of some pages in the seminar hand book into the local language-Lugbara
Buying of the materials for the seminar
Printing and photocopying of the texts
Drawing of the pictures for easy learning
Organizing the venue and getting the people to cook
Transportation of the materials to the venue
Methods used during the training included:
Explanations
Group discussions
Buzzing in pairs
Singing and dancing
Role play
Question and answer methods
Practicals i.e participants were involved in the practicals
We took Artemisia, lemon grass and hibiscus teas during the break tea time (10:30am)
The handouts:
Seminar hand book
Artemisia seedlings ready to plant
Artemisia seeds sown in the jiffy pot
Grain amaranth seeds
Moringa stenopetala seeds
Hand drawn picture on flip charts.
The way forward: At the end of the training I asked them; How shall you successfully carryout this project? They took a good amount of time to discuss this question and came up with the following plans to be implemented:
To meet once a week on Tuesdays at 9:00am to share on the progress of the Artemisia seeds sown in the jiffy pot.
To have a piece of land next to their house Lodonga Womens Club house to grow Artemisia at a central point.
To report timely on the positive and challenging experiences at the individual level for appropriate actions.
To meet the quality standard of the Artemisia leaf powder so that malaria can be effectively eliminated from the communities.
To have timely and accurate recording at each of the stages in order to arrive at an accurate and undisputable reports.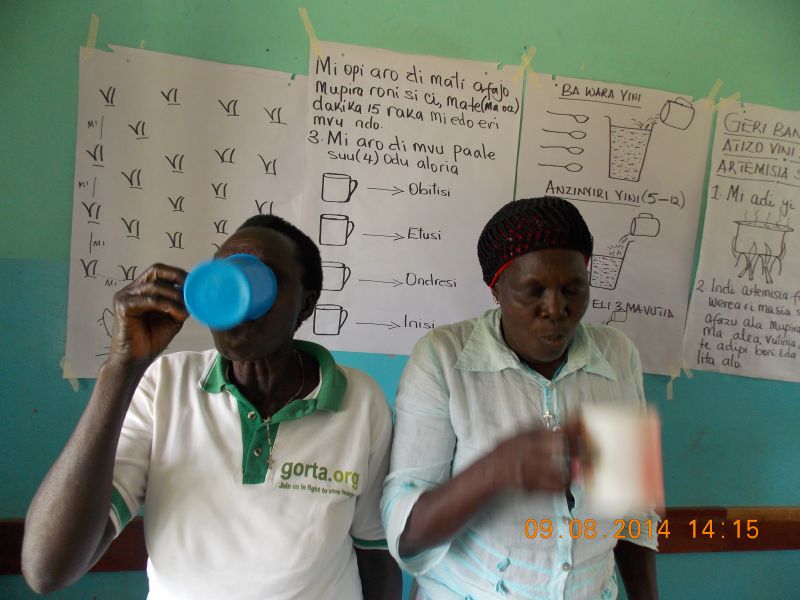 The financial report: The women expressed happiness and joy for having received this great knowledge. They extended a sincere thanks to you Mr. Stuart Spani for this donation. I on behalf of the women and on my own behalf also wanted to sincerely thank you for this great offer to the women in Lodonga Parish. May the Lord God shower you with abundant blessings, good health and more opportunities. I also wanted to extend my heart-felt gratitude to Dr. Hand Martin Hirt for opening us this gate to enter the heart of Mr Stuart Spani. The struggle for a malaria free community is indeed a joint venture. May the Lord provide you with more. I received 1000Euro(3,460,000Ush) through Dr Hans Martin Hirt, this is how I spent it.
Stationary

Item

Quantity

Total cost

Exercise books

22 pieces

22,000=

Bick pens

22 pieces

11,000=

Cello tape

1

3,500

Flip chart

1 set

20,000=

Marker pens

1 packet

15,000=

Stapling machine

1

15,000=

Printing paper

1 rim

20,000=

Total

106,000=
Materials

Buckets

2x10,000=

20,000=

Transparent cups

25x500=

12,500=

Spoons

4x1000=

4,000=

Knives

2x3500=

7,000=

Seminar hand books

22x12,000=

264,000=

Starter kit

1x397,900=

397,900=

Measuring jug

2x5,000=

10,000=

Total

715,400=
Transport

Lodonga to Kampala

50,000=

Kampala to Lodonga

75,000=

Lodonga to Arua

20,000=

Arua to Lodonga

35,000=

Lodonga to Koboko

55,000=

Total

235,000=
Allowances/Remunerations

Nyakuni Christopher(Facilitator)

3x100,000=

300,000=

Stephen Ajuma(Driver)

50,000=

Angelina Buderu(Cook)

3x10,000=

30,000=

Grace Inzikuru(Cook)

3x10,000=

30,000=

Christine Wadiku(Cook)

3x10,000=

30,000=

Total

440,000=
Meals

Breakfast

3x4,000=x21

252,000=

Herbal tea

3x3,000=x21

189,000=

Lunch

3x7,500=x21

472,500=

Tea break

3x4,000=x21

252,000=

Total

1,165,500=
Communication

Airtime

20,000=

Data bundle for internet

35,000=

Total

55,000=
Others

Translation of the texts

3x30,000=

90,000=

Printing

173,000=

Feeding while travelling

25,000=

Accommodation

2x20,000=

40,000=

Hall hire

3x100,000=

300,000=

Total

628,000=
Summary
Stationary…………………………………………………………………. 106,000=
Materials…………………………………………………………………… 715,400=
Transport…………………………………………………………………… 235,000=
Allowances………………………………………………………………… 440,000=
Meals………………………………………………………………………… 1,165,500=
Communication…………………………………………………………. 55,000=
Others……………………………………………………………………….. 628,000=
Grand Total…………………………………………………………………………….. 3,344,900=
Balance…………………………………………………………………………………… 115,100=
Conclusion: We are so grateful for your donation towards the struggle of having a malaria free community. I together with the twenty women shall try our best to implement this project. I shall also monitor them so closely to ensure success and continuity. As I distributed seedlings directly to them, I am sure in two months time, we will begin to harvest the Artemisia. To produce quality Artemisia leaf powder indeed we will need clean rooms, drying racks, drying sheets and plastic bags. We hope that the bond between Lodonga Women Group and you will continue.
We will therefore be grateful to you if you can support us again particularly towards having quality Artemisia leaf powder.
May Almighty God give you good health as you struggle to fight the enemy-Malaria.
Yours' in Christ, Christopher Nyakuni.
Lodonga, Uganda.
+256775712246